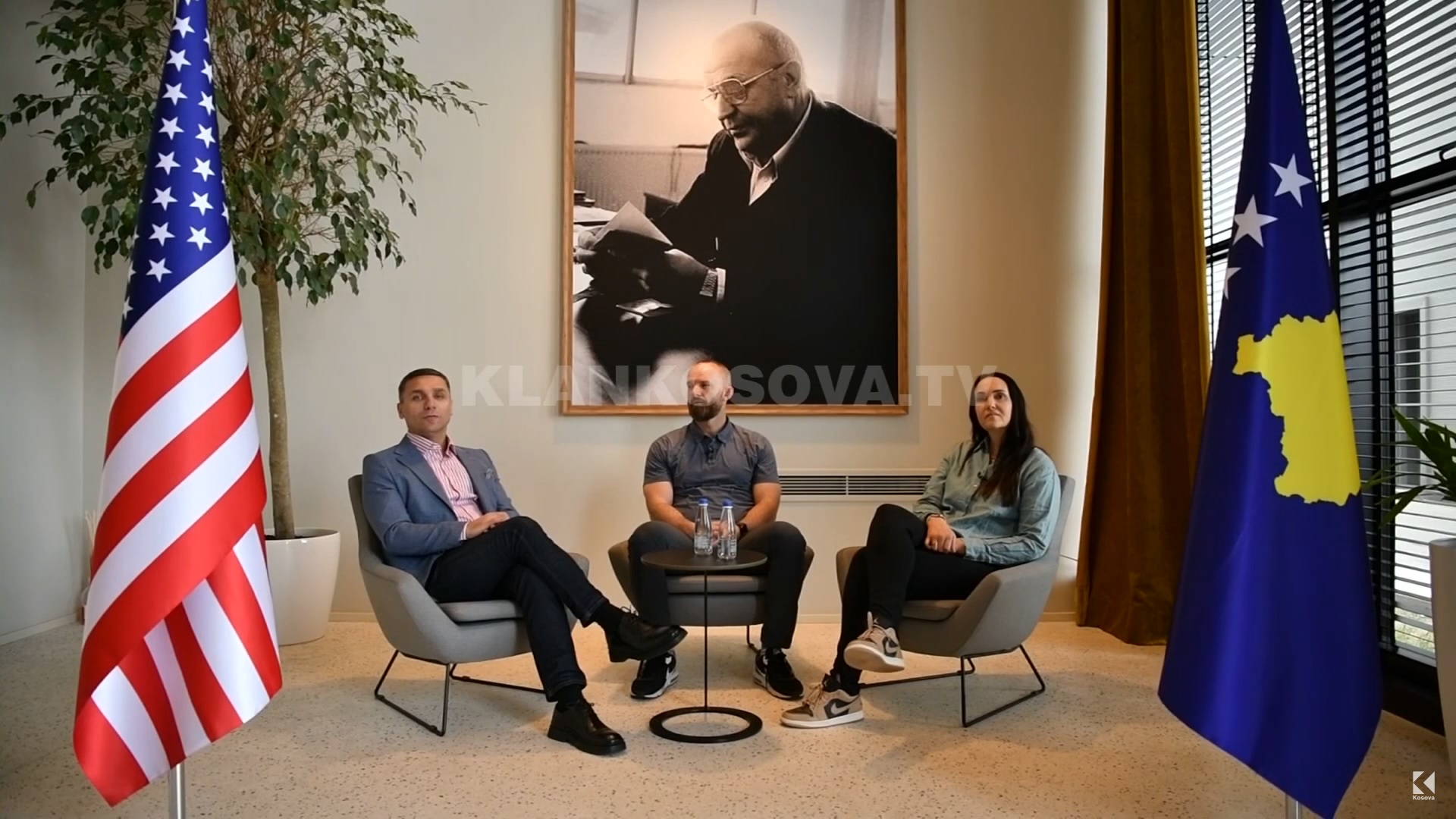 Malouf Home visits Devolli Corporation: We are proud to say that our mattresses come from Kosovo
Sam and Kacie Malouf, owners of "Malouf Home", have given an interview to Clan Kosovo, where they talk about their optimism for increased cooperation with Comodita Home from Devolli Corporation and new joint successes.
Full interview:
Kelmendi: Mr. Sam, Ms. Kacie, it's a pleasure to be with you and welcome to Kosovo! So you started as a family business and you are both involved in Malouf. Can you briefly describe how you came together and started working in this business?
Sam: Yes, well let her tell, it was her idea.
Kacie: Yeah, Sam and I got married 20 years ago and we were getting our first house ready and we had just bought a mattress and we were looking for sheets for our mattress and we went shopping and everyone was telling us don't buy a king size bed, we had a king size bed and everyone was saying that the sheets will be too expensive and when we went out to buy sheets they were too expensive and from there we got the idea that we can find sheets with high quality and more affordable prices and sell it to other people and that's how it started. From there, over the past 20 years, it has grown into a much larger company. Now we have not only sheets, but also pillows, mattress protectors, bed frames, then we moved to mattresses and that's how we got to know Mr. Devolli and started working with him.
Kelmendi: So it's a very personal story, a couple gets together, they have to sleep together, in the same room, and so they start thinking about mattresses and then they start working with mattresses.
Sam: Well, you said it well, sure, that's how it happened.
Kelmendi: How did you meet Devolli Corporation? When was the first time you came in contact and decided you could collaborate?
Sam: So we make products all over the world, in many countries, and especially over the last five years things have been globally disrupted in manufacturing. We are constantly looking for the best place to produce the best product and we have a team that focuses on finding spaces and countries that are very good at what they do. We never thought of making products in Kosovo, we didn't really know anything, and our team found Ventious in Devolli Corporation here in Kosovo and we started working together three years ago and it has grown very fast, because they are very good at their work who make and offer very competitive products and very high quality products at a good price that really fits our needs for the US market.
Kacie: They did a great job with the orders we needed during Covid, it was a very busy time for us in the US and they were able to accommodate the requests and they grew a lot and for because of this we also grew.
Kelmendi: It was amazing to think in the context of Kosovo how a small country in the Balkans can find a market in the USA and become the largest exporter in the USA, so how to increase confidence in products coming from small countries?
Sam: It's interesting what you're saying about making a mattress, because in many cases buying a mattress is a major purchase for a person, especially how we make mattresses, we compress them. and we put them in smaller packages to ship and there are quality risks and challenges that you can have and it often takes us a lot longer to ramp up like we did here but as Kacie mentioned , due to Covid and supply chain disruption, we had to do it very quickly and Ventius was very effective in delivering quality and quality controls at that level. We've never had any issues with quality and, as Kacie mentioned, the speed at which they produce it is amazing how quickly they can do it.
Kelmendi: So the quality is of American standards?
Sam dhe Kacie: Yes.
Kacie: And I think there is a perception in America that whatever comes from Europe has a higher quality compared to other countries where we produce, so when we say that the mattresses are made in Kosovo, people think that this is something different, exciting and better than in other countries.
Kelmendi: And do you see this cooperation growing?
Sam: Yeah, yeah, we've been in business for 20 years, it's been 12 or 13 years that we've been making mattresses, and even though we've grown and have a big market share, there's still a lot to do and I think that having a partner that is in step with us is a dream, it is the best scenario, what Kacie said, the production of products in Kosovo is positive, we are proud to say that this comes from Kosovo. There are some countries where we produce and we try to avoid mentioning the country of origin, but in the case of Kosovo it is the opposite.
Kelmendi: And it's the first time you've come to Kosovo, together with your five children, big family, congratulations! What have you found interesting in Kosovo so far from the things you have visited, the places?
Sam: Well firstly the people, I think the people are very warm and welcoming and happy. We had the opportunity to see a lot of work being done, so very involved and hardworking people, we saw a lot of care from people.
Kacie: I think it was interesting to learn about the history of Kosovo. During the war we were young and didn't understand what happened in Kosovo, so it was interesting to come here and learn what happened and see how many changes have happened since the war and see the people working so many and how many changes they have made. It has been interesting to learn about it and when we go home, we will learn even more.
Kelmendi: And you met with two mayors, the mayor of Gjakova and the one of Peja, and congratulations on becoming honorary citizens of Gjakova!
Sam: Thank you! Yes, Kacie was mentioning it, it's impressive how people have adapted so quickly and grown and built businesses and lives and families in such difficult times, like mayors, it was impressive for us to see their leadership and care for people. We walked with the mayor of Gjakova and the city knew who he was, he spoke and greeted everyone, this was impressive.
Sam: In Peja we had the opportunity to see the beautiful environment, it was like a photograph, when you live somewhere you sometimes forget, but the environment was like a photograph in a dream.
Kelmendi: People here in Peja asked you which one you liked more, Gjakova or Peja.
Sam: Both are Kosovo, we love Kosovo, so it's exciting to see both cities where they came from and where they're going. I think another thing we experienced was the amazing food here, which was very good in both cities.
Kelmendi: Thank you and we would like to welcome you in the future, enjoy your stay here.
Kacie and Sam: We will come again, we love it, thank you!